The Pet Taxi service based in Glasgow is to provide your pet transportation to the vets and back for any reason you are unable to make it to the vets yourself.
Such as; you don't drive, you are unable to get any other transport, you are unwell, you have an emergency or you just can't squeeze in the time to take your beloved pooch to the vet.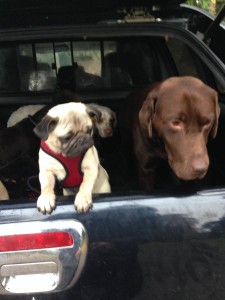 When to make the appointment
You will make the appointment with your vet and arrange payment provisions beforehand. Appointments should be made either for mornings (between 9-10:30am) or afternoons (between 4:30-6:00pm). I will come and collect your pet, take them to the vets and then drop them back home.
If you prefer to be chauffeured, I will take you and your pet to and from the vets in my safe and secure van.
Emergency
In any emergencies in the Glasgow area please contact me and I will do my best to help you. Having one of my own I realise how important your pet is to you!
There is a discount for this service if you are an OAP .